All 2022-2023 CO-OP students must attend a CO-OP Student Workshop before school begins. Use the link below to sign up. There are several dates to choose from.
Workshops are mandatory even if you are a returning student - there have been some policy and procedure changes for summer and the 22-23 SY.
Only sign up for ONE time slot.
You MUST sign up at least 24 hours in advance. You cannot show up without reserving your spot.
If none of the scheduled slots work with your work schedule send me a message on Remind or an email at tara.baker@elmoreco.com to make alternate arrangements.
If you are participating in summer CO-OP and 2022-2023 SY CO-OP you only need to sign up for a SUMMER CO-OP session.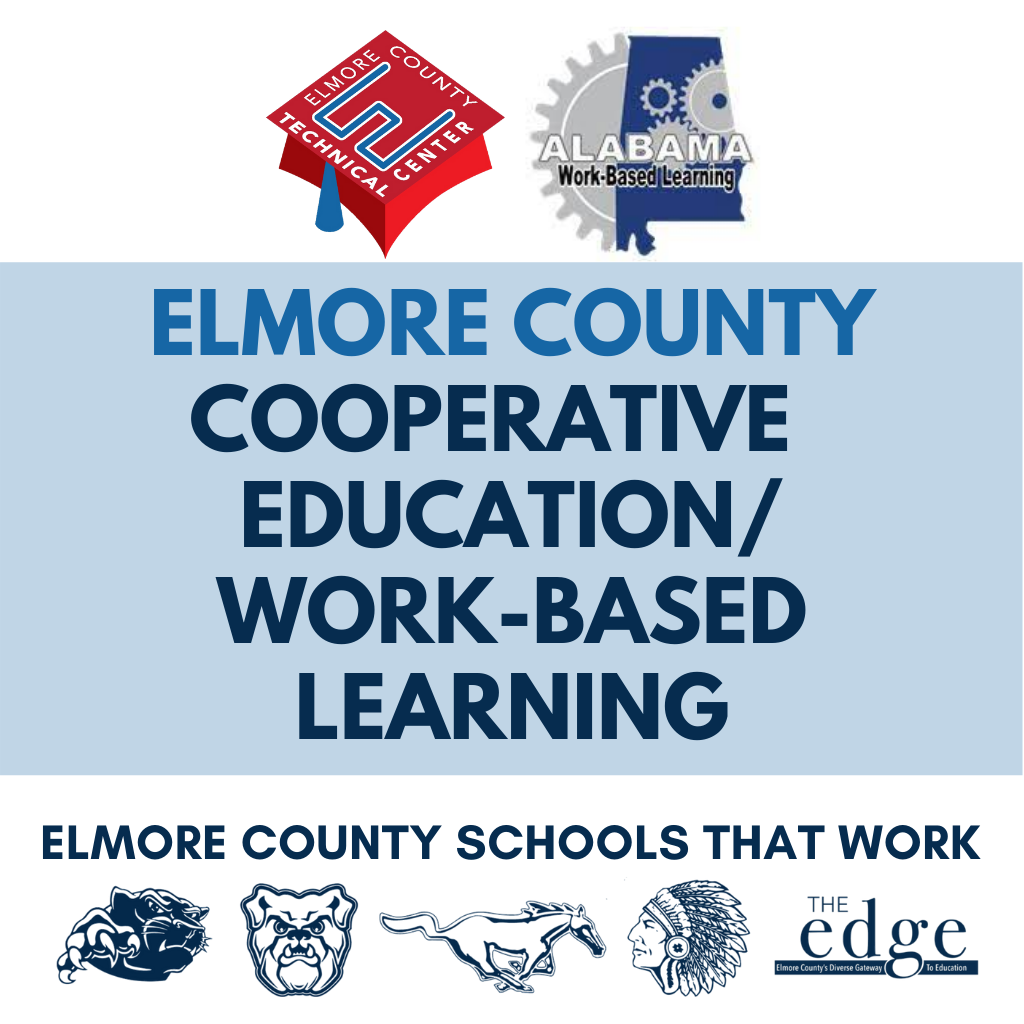 Cooperative Education
Cooperative Education is learning by doing. Students continue their technical training by working for employers during the period(s) they are scheduled for WBL. Work Based Learning is a combined effort between parents, educators, and employers who assist young adults become proficient and productive in the workplace.
Cooperative Education is part of the Work-Based Learning Continuum. Cooperative Education is a structured component of the Career Technical Education curriculum that integrates classroom instruction and learning with productive, supervised work-based experiences in fields related to a student's career objectives. Students must work 140 hours per CO-OP credit earned.
Eligibility
Cooperative Education provides juniors and seniors with real-world work experience, as well as the responsibilities associated with having a job in their chosen field.
CO-OP students identify a career path to explore in one of sixteen nationally recognized career clusters. It is expected that career technical courses taken from 9-12 grades will relate to a career objective.
Student Qualifications

In order to participate in Work-Based Learning a student should:
Be at least 16 years of age
Have successfully completed the required prerequisite course(s)
Be classified as a junior or senior who is on track for graduation
Have an acceptable attendance, grade, and discipline record
Have completed an application for WBL enrollment
Have provided the names of three teacher references one of which should include a Career Technical teacher
Possess the knowledge, skills, behavioral qualities, and abilities required for successful employment
Be physically and mentally capable of performing the essential functions of the desired work-based experience
Have participated in a student interview to review information on the application, discuss parental/guardian support, and discuss possible employment options
Have the ability to provide transportation to and from the training site
This is the process we will use for the 2022-2023 school year applications:
Download, complete, and return the application. Once your application has been reviewed you will receive an email with further instructions. Check your student email regularly! If you are eligible for CO-OP, you will need to download, complete, and return all remaining documents on the checklist below. Being eligible for CO-OP does not mean you are automatically enrolled in CO-OP nor does it guarantee a job. It only means that you meet all requirements for eligibility.
All documents must be completed and returned to Ms. Baker, Cooperative Education/Work-Based Learning Coordinator at Elmore County Technical Center in order to be considered for participation in the program. Students can return documents in person or by email. Incomplete forms/documents will be returned to students. No incomplete applications will be accepted.
Please contact Ms. Baker with any questions at 334-567-1218 or tara.baker@elmoreco.com.